Naked YogaSpark: Islington
ALL "LIVE" CLASSES ARE NOW SUSPENDED BECAUSE OF THE CORONAVIRUS
Naked yoga for men: Central/Northern London.
The ideal class if you're taking up yoga as a new year resolution: designed especially for guys who are new to yoga or have limited experience of it.
This is a slow, gentle, nurturing class that offers a solid grounding in the practice and philosophy of yoga. We'll work on basic poses and techniques, keeping in mind safety, spirit and fun. The aim is to spark an interest in (maybe even a love of) yoga that will carry students through to the huge variety of benefits this system of movement and mindfulness can offer.
YoGrrrr: Bigger and bearier men quite often say things like "I couldn't do yoga, I'm too big". That's not so. Yoga is infinitely adapable and can work for you, no matter what your body shape, so do come and join us.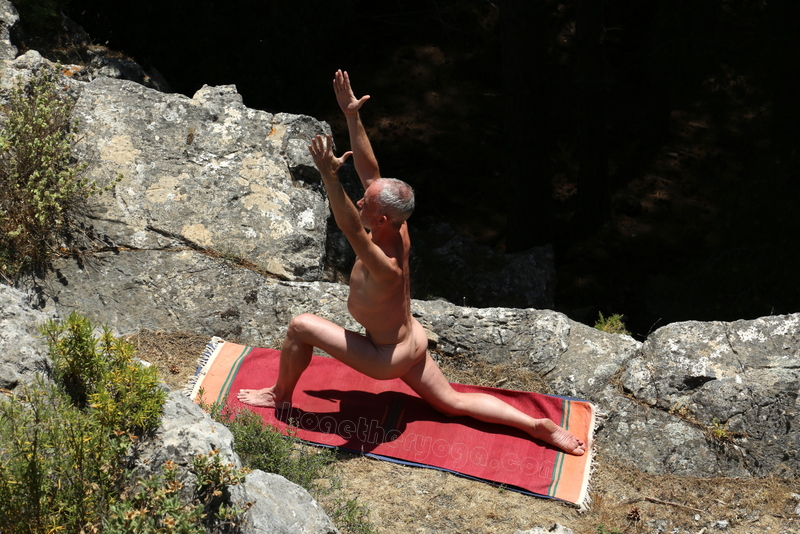 When? Second Monday of the month (usually). Please arrive at 7pm to undress. Class will run from 7.15 to 8.45 (90 minutes). Please be prompt, as late-comers disrupt the class for everyone else.
Where? Studio H, Urdang 2, 259–263 Goswell Road, Islington, London EC1V 7AH,
https://goo.gl/maps/qBSg9 or scroll to the bottom of this page for a location map.
Urdang 2 is on the corner of Goswell Road and Rawstorne Street. The closest Underground station is Angel.
How much? £15 per class at the door.Buy three classes in advance for £42 (£14 per class).
or six in advance for £80 (about £13.30 per class).
If you prefer to buy a three- or six-class pass with cash, just bring it along to a class. Passes are valid for six months from the date of purchase.
How many? 20 students max (first come, first served).
Suitable for: 18+ men (everyone who identifies as male).
Those with some previous yoga experience or none at all.
What does the class include? Key yoga postures, breathing techniques and meditation.
Partner poses: working in pairs or trios to help each other build skills.
What if I get a stiffie? What if you sneeze or hiccup or blink? These are all natural things that our bodies do. Erections are part of being a man. They're not offensive or shameful. The ancient philosophies and spiritualities of the east, which have strong links with yoga, recognise and celebrate our sexual drive as an important life force.
What to bring:

A yoga mat.
A small bottle of water (you can refill at the venue).
A towel.
You can buy a good quality sticky mat from me for £15. Please email me in advance of the class if you want to buy one.
If you prefer to source a mat yourself be sure to get what's known as a "sticky" mat as other "exercise" mats do not have the right sort of non-slip texture. They are available pretty widely, on the internet or from stores such as Argos.
Safety first: A yoga mat is designed to help you avoid slipping. A large towel or sarong or something similar increases the chances of you slipping, so won't do as an alternative.
Health: It's really important to me that, as far as possible, you stay safe and healthy in my class. If you have or have recently experienced any of the health conditions listed below, please let me know before the class so I can adapt the practice
High blood pressure
Low blood pressure/fainting
Arthritis
Diabetes
Epilepsy
Heart problems
Asthma
Depression
Detached retina/other eye problems
Recent fractures/sprains
Recent operations
Back problems
Knee problems
Neck problems
Any other conditions which might affect your mobility or are likely to cause you concern when doing yoga.
If you have any questions:
Send Nickles a message.
Location map: Urdang 2
Naked yoga for men: Central/Northern London.