"We spend a lot of time as gay men dealing with our sex and sexuality in the ways society proscribes, this was a chance to reflect on that from a position of love and light and as such it will have changed my life"
"Thank you for sharing a few days that will remain very special to me."
"Thank you for the most wonderful, calming, body energising, sensual and
thought provoking four days. The journey of discovery was full of
unexpected revelations and every corner of the road we took revealed sensations that will for ever stay with me."
"Really feel so refreshed after this retreat."
"It was an enjoyable experience and has clarified for me the
direction I wish to take"
Two teachers: just six guests (max)… plenty of individual attention.

Hosted at a unique, beautiful, welcoming naturist home at the heart of an ancient Spanish medina.

We create retreats with a warm, affectionate, cuddly atmosphere

19 men joined us in 2017/2018




Three came twice




One came to all four
David and Nickles combine their energies to offer you a joyful, loving and challenging tantric retreat, in October.
Aspects of Self Love will expand on the themes of Seeds of Desire (August/September 2018) and is designed to appeal both to those want to develop their experiences from the previous event(s) and to those wanting to join us for the first time.
Our aim will be to again offer a beautiful, affectionate and playful exploration, this time focusing on ways to edit out the life-limiting, inhibiting, often unconscious, self-critical inner voice and to replace it with a recognition of our own loving qualities that transmits to others and cultivates connection, warmth and wellbeing. We'll celebrate your life force, with the purpose to knowing yourself better: tantra is the understanding of who we are, deeply, in our very core, so we are able to live fully and enjoy our lives in every aspect.
Open to 18+ men, this workshop will give you the opportunity to enjoy an intimate, holistic retreat: with only six guests (four minimum) and two teachers, each of you will get plenty of personal attention, to improve your self-understanding and acceptance, through tantra and nude yoga sessions. This mini retreat is suitable and open to all levels of practitioners, regardless of your experience with yoga and/or tantra.
During this weekend, our tantric exploration will give you a global view on how tantra transcends your life and expands your consciousness. The programme will include morning tantra yoga flow on the terrace, followed by a workshop (mindfulness meditation, tantra, massage, intimacy sessions …) and an evening session. Our ultimate purpose is to give you the tools you need to help you move towards self-realisation.
In the afternoons, you will have plenty of time to relax and revive on the terraces, wander in the ancient town, visit the local naturist beach or explore the nearby coast and mountains. You will stay in a centuries-old traditional Andalusian house on a hill in the ancient medina of Velez-Malaga, southern Spain; a naturist home with a twist of India and a verdant hideaway (see the house at casapantha.com).
When: Friday, October 19 to Monday, October 22, 2018.
Please aim to arrive at Velez-Malaga on the Friday by 2pm; the workshop will end on Monday at around 1pm.
For those who would like to stay longer, please contact David (yogifolies@gmail.com) directly.
Location: Velez-Malaga is about 35km from Malaga Airport and only 5km from the local nudist beach. The village is easily reachable by bus (direct from Malaga). Details of the journey from the airport to Velez-Malaga are here, It should cost less than €10.
Accommodation: Casa Pantha welcomes you to its guest area, with two double-bed rooms and a two-single-bed room (if you're attending alone, please be prepared to share a bed).
Meals: Each day, a selection of foods will be available for you to create your own breakfast. An Indian-inspired evening meal will be served on the Friday, giving you the opportunity to explore and sample the rich local cuisine of Velez-Malaga and Torre Del Mar the other days.
Price: Early bird price, available until September 24, 2018, £325 (around €370, depending on exchange rates).
After September 24, 2018, £350 (around €400, depending on exchange rates).
Pay the full earlybird price, £325, here
Pay a 25% deposit, £82 (balancing payment of £243 due September 24, 2018), here
Your hosts: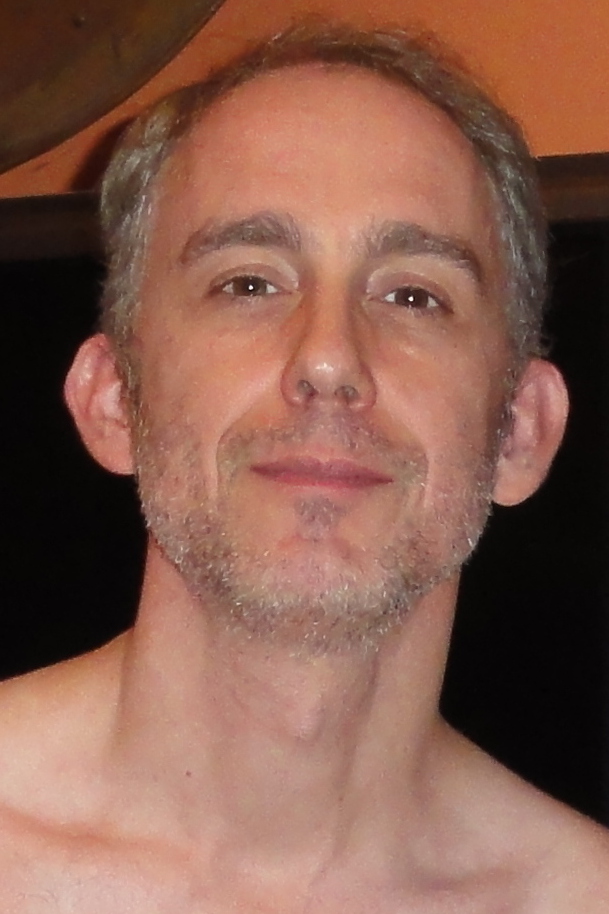 Nickles and David met a few years ago in London on a weekend yoga workshop. As their paths crossed again in spring 2017, they decided to put together their experiences and skills. The resulting four retreats have been wonderful, surprising and hugely enriching. We revel in hosting them.
Nickles: Taking a pragmatic, grounded and student-centred approach to teaching, based on foundations of health, safety and fun, Nickles also embraces the broader, holistic aspects of yoga. His exploration of tantra has included a three-year diploma and courses in many forms of touch and bodywork. Nickles has been a yogi for more than a decade and he is a British Wheel of Yoga-accredited teacher with almost eight years of experience.
He says: "Our bodies hold remarkable secrets and revealing them can be exciting, liberating and healing. Yoga, meditation, breathing practices, touch and tantra can awaken powerful physical responses while offering us new perspectives on ourselves and making valuable contributions to the experiences of those around us."
David: Through years of practice and study, David has developed a unique practice, with a simple and effective method of teaching. His physical practice of yoga embraces the "Universal Principles of Alignment" (from the Anusara and Iyengar approaches) in which he spiritually incorporates the wisdom and compassion of the Buddhist tradition, believing in 'the intrinsic kindness and beauty of every being'; as found in the Kashmir Shaivism Tantra tradition.
Because David's style is enhanced by his experience as an ayurveda practitioner, yoga therapist and tantra practitioner, all workshops and retreats, from a restorative/relaxing approach to a more powerful and challenging practice, are designed according to the students' levels and needs.
He says: "Practicing yoga in its wholeness (which includes tantra traditions, postures and movements, meditation, breathing techniques (pranayama), massage, intimacy, self-exploration and acceptance… ) is to become aware of what takes place in our body/mind/spirit, to serve ourselves and be open to everything around us. It is about learning to accept and love ourselves such as we are. It is about finding our own authentic values, through a holistic and individual approach to life, to discover who we really are and to find our true place."
Every person in David's sessions is respected and honoured within his abilities and limitations, not judged but completely accepted just as they are, supported and empowered on their own path. The experience helps to reveal and cultivate the best of the student, which is already to be found within.
Deposit: To reserve and confirm your participation on the Aspects of Self Love retreat, you can pay the total cost or a 25% deposit (non-refundable). The booking will be considered definitive only on receipt of the payment.
The deposit is non-refundable – however should you cancel your reservation 30 days or more before the start of the retreat, you may apply your deposit toward another retreat/event/workshop occurring within 12 months from the date of the initial retreat that you registered for.
Full payment: When you reserve, you may either pay in full or only the deposit. Please note that the balance is due and must be received 30 days prior (September 24, 2018) to the start date of the retreat.
Cancellation policy: Please note that there will be no refunds or discounts for arriving late, leaving early, flight cancellations, travel delays or illness. If you cancel your participation in a retreat for any reason, the cancellation policy below will apply, with no exceptions. We wish we could compensate people for unforeseen circumstances but we have costs already incurred. We have designed our cancellation policy to be as compassionate as possible in the case that your plans change.
In the event of cancellation by the customer, regardless of the circumstances, the following refunds – minus the deposit, non-refundable as mentioned above – apply:
Cancellation 2 weeks or less before due arrival date, 0% refund
Cancellation 2 to 4 weeks before due arrival date, 25% refund
Cancellation 4 or more weeks before due arrival date, 50% refund
We have never had to cancel a retreat; however, if we do cancel due to too few participants (minimum four, maximum six), we will refund to you all deposits and payments you have paid. We cannot however compensate you for airfare or travel costs incurred.
In the unlikely event we must cancel any event due to weather, natural disaster or political upheaval, we cannot guarantee a refund – to cover these risks, we highly recommend you purchase travel insurance and make sure they have a comprehensive "cancel for any reason" policy.
Thanks for your understanding.
Individual and complete
We aim to run four retreats in 2018/2019.
Each is different and complete in its own right and each has its own theme.
They can also form a quartet, with elements that harmonise with and inform each other.
Your welcome will be equally as warm, whether you choose to attend one, dip in and out, or go for the full set.
If you have any questions, email Nickles at altogether.yoga@gmail.com or David at yogifolies@gmail.com